These were our favorite art stories, articles, and videos in 2021. We choose these because they helped us think differently about art and the influence of technology. We hope you'll enjoy them as well. So here they are, in no particular order.
Revolutionizing art for color-blind museum visitors
The Timken Museum of Art of San Diego will offer visitors who are red-green color blind free access to special EnChroma glasses to experience the Museum's collection in vibrant color for the first time.
"The mission of EnChroma is to enable those with color vision deficiencies access to more of life's colorful experiences through our specially engineered eyewear," said Erik Ritchie, Chief Executive Officer of EnChroma. "We are thrilled to collaborate with the Timken Museum of Art to make its extensive collection of artwork accessible to those with color blindness."
Arabic calligraphy added to UNESCO heritage list
Arabic calligraphy is "the artistic practice of handwriting Arabic script in a fluid manner to convey harmony, grace and beauty."
Originally invented to improve the legibility of Arabic script, the writing form became more complicated as artists found that by shaping the letters in different ways they could create unique motifs. The form has continued to evolve as artists have used different media to create the calligraphy.
Art library for citizens and local businesses to borrow art!
In Saint-Priest, France, they have one such library, the artothèque! Our love of art is equal to our love of libraries, so we are delighted that such a place exists.
This made us think of the great work that Art in Oregon's Art Shine Project is doing to get artwork out into our local Oregon community.
Security Guards to Curate First-of-Its-Kind Exhibit at Baltimore Museum of Art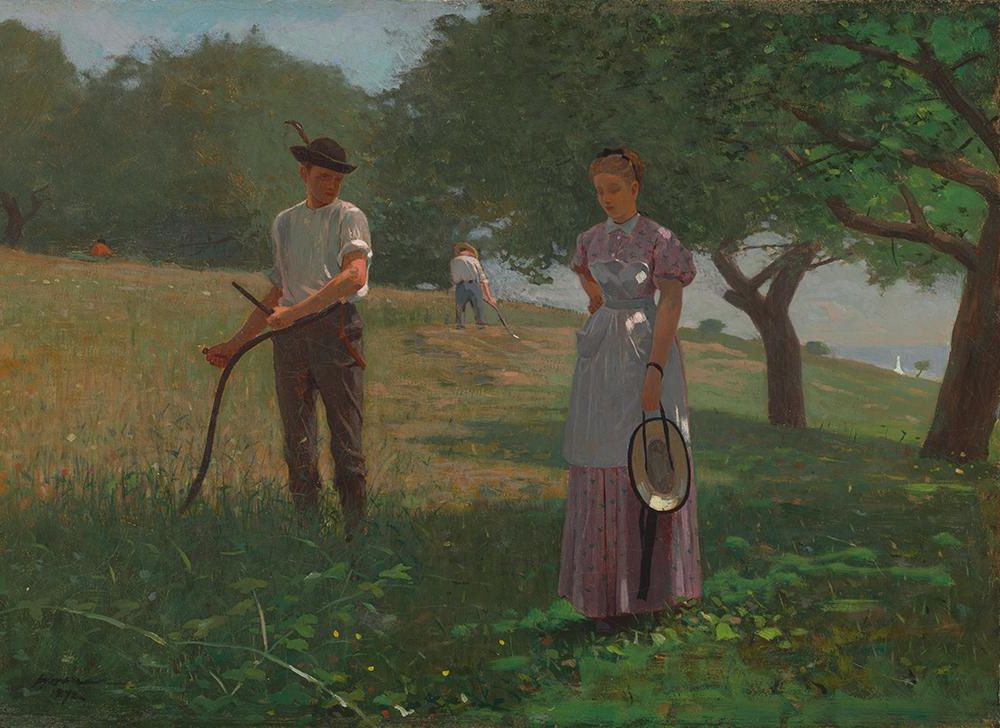 After spending day and night with the collection, the guards will get to share some of their favorite hidden gems with visitors. Titled "Guarding the Art"—the exhibit will open in March 2022.
Many of the selections are works that resonate personally with the guards but are often overlooked by the general public.
Who decides what art means?
This short and thoughtful TEDEd video (04:18) explores questions like: "How much should an artist's intention affect your interpretation of the work? Do the artist's plans and motivations affect its meaning? Or is it completely up to the judgment of the viewer? Hayley Levitt explores the complex web of artistic interpretation."
Art history meets computer science
Researchers have found that Flemish artist Jan Van Eyck was painting in perspective 70 years before Leonardo da Vinci! Analyzing Van Eyck's Ghent Altarpiece (shown above) with computer vision and 3D reconstruction has revealed some secrets.
"It seems the painter also wanted to take human stereoscopic vision into account in his paintings," added Gilles Simon.
Félix Vallotton Mysterious Paintings of Interiors
With our increasing interest in art arrangements, we've started to take notice of how art is displayed and depicted in art. We thought you might enjoy this article which explores the interiors captured by Félix Vallotton (1865–1925).
He was a Swiss and French painter. Many of his interiors depict open doorways or open doors leading to bedrooms.
A second insect discovered in a Van Gogh painting!
Researchers studying Van Gogh's Olive Trees series have found a small insect's 18cm trail. This comes after the discovery of the remains of a grasshopper in another painting.
The insect, of an unidentified species, flew into Van Gogh's impasto, in the foliage in the center of the composition.
What happens when you combine science, detective work and art? You reveal history
Analyzing the lead content in white paint has provided clues as to when and where paintings were created.
Paolo D'Imporzano of the Free University and his colleagues in Amsterdam studied samples from 77 Dutch paintings from 1588 to 1700. Using a technique called lead isotope analysis, what they found was that changes in lead chemistry reflected changes in history.
Artificial Intelligence is helping to solve an art debate
A series of tests using artificial intelligence have found that the Peter Paul Rubens masterpiece Samson and Delilah (ca. 1609/10) at the National Gallery in London is most likely fake.
After comparing the work against 148 uncontested Rubens paintings, the algorithm came to the "astonishing" conclusion that there was a 91 percent chance that it was inauthentic.
---
If you have some favorite articles and stories about art, let us know! We'd love to feature them on our blog and newsletter.